Narconon Educational Programs
---
In the development of an effective prevention program, Narconon staff first addressed where drug education efforts have failed in the past. The basic method used formerly in drug education has been the "scare tactic" approach. This was an attempt to scare youth away from drugs. It never worked; and in many cases perpetuated drug use by presenting information that was easily discredited.
In the Narconon drug education presentations to schools, we have refined an approach that speaks powerfully to kids in their own language.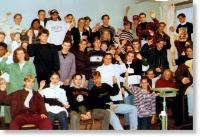 Our professionals, many of whom are former addicts, speak from their own experiences with drugs and give a realistic picture of drug use. We don't just tell kids to "say no"; we educate them to come to that conclusion on their own,
and more importantly, show them how to say no and what exactly they are saying no to.
Our study of questionnaires filled out by students has shown us the precise information that causes kids to:
Decide to stop using drugs (for those who already used them).
Change their mind from possibly trying or using drugs to a firm decision not to use them.
Believe more firmly in their decision not to use drugs (when they state they are already against them).
The Narconon program also utilizes the powerful role of humor in getting through to children. We discovered that the more humor we included in the presentations, the better the results. A direct correlation was found between the level of humor and the children's perceived dangerousness of drugs, though the message is clearly a serious matter. With this light approach, kids see the dangers of drug use and really "get it."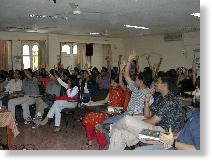 We also explore the problems that often underlie drug use. With teenagers, the casual factor can often be boredom or an inability to communicate with others. Therefore, other subjects such as setting and achieving goals are covered as a method to avoid falling into the trap of substance abuse. We clearly distinguish the feeling of "getting high" from drug use which is temporary and damaging from the feeling of self-confidence and true happiness through productivity and accomplishments, which is permanent and real.
The Narconon presentations are divided into several subjects. They are geared to the appropriate age groups and focus on the real life situations that often lead to drug use.
The physical effects of drugs on the body
How drugs affect the mind
Marijuana-The myth
The Truth About Ecstasy
The Truth About Methamphetamines
Drugs and Alcohol; how the media affects young people
Tobacco, smoking and your health
LSD-One of today's most dangerous drugs
Establishing and achieving goals in life-how this eliminates the desire for drugs
Peer pressure and resisting drug use
Addiction-how it starts and what keeps a person addicted
How emotions play a role in drug use
Narconon Peer Leading Training
---
Peer leaders are a tremendous resource, and with the proper training are very effective in educating their peers on substance abuse and other subjects.

The Narconon Peer Leader Training was developed as a result of many years experience in the field of drug prevention and the education of young people on alcohol and other drugs.
Students are provided with the skills necessary to become competent leaders amongst their peers and take an active role in combatting substance abuse. This includes setting a good example for elementary school children and showing these young people that life is better without drugs. The above is accomplished through a series of exercises and lessons in communication and listening skills, interpersonal relationships and how to relay information on alcohol and other drugs.


The key element of the program is communication skills. The students participate in training exercises that increase their ability to focus attention, confront issues they might otherwise shy away from, develop listening skills, relay a communication effectively and most importantly, raise their confidence level.

These simple, yet extremely effective, exercises require the participants to demonstrate their competence in the relay of information to their peers.

The second segment includes learning skills which cover how to work with people of different age and literacy levels and how to overcome the barriers to communicating information to them.

Each program is specifically designed to the needs of the group, taking into consideration their purpose, goals and activities. Emphasis is placed on creating a more workable group that will remain active in the school and community. The above skills are then applied to the specific theme of the program. Some of the specialized programs available are:
Leadership skills and positive role models
Conducting effective community projects
Alcohol and other drug education
Violence prevention
Public speaking
Peer Counseling
Educator Training Workshops

Narconon also provides training workshops for educators. These workshops are designed to impart the key methods and tools used in the Narconon program, that educators can utilize in the classroom with their students.
Narconon Results of Our Program
---
Following our presentations, each student is given a questionnaire to help us evaluate the effectiveness of the program. These surveys provide vital information that is used to enhance, update and increase the effectiveness of our presentations.
Our success in reaching students is measured by the question, "Did your thoughts about using drugs change after hearing our presentation?" To date, we have received an overall 95% positive response to the program. 40% reported an increased perception of risk. 45% said their decision not to use drugs had been reinforced after hearing the talk. Over 90% felt they knew more about drugs after the talk.

An independent study of the Narconon Drug Education program conducted by FASE (Foundation for Advancements in Science and Education) in Los Angeles concluded: "Changes in those who had indicated that they might use drugs were quite pronounced. Responses clearly indicated a heightened awareness of the adverse effects caused by drug abuse. Comments indicating that they would now never use drugs were common."
What Kids Say....
The Narconon program changes kids minds about using drugs. The simplest demonstration of the success of the Narconon program is to hear it from the students themselves. The following are just a few responses following a Narconon presentation:
"Yes, They did cause I thought about trying pot out of curiosity but, now I'm afraid cause of how it will harm you. There's no point."
"I thought it was good that he told us the story about LSD because I thought it was a safe drug. I also learned how harmful weed was I thought that was harmless".
"My thoughts about drugs had changed. I used to think drugs were cool. I thought since everybody does it I should do it too. Now I realize that drugs are bad."
What Educators Say...
"I, personally, was very moved by the presentation. I also learned new information along with our students. I believe, after hearing the presentation myself, that this program can truly save lives as well as help people make decisions that will lead them towards productive lives." - School Principal
"Often children are misinformed about the painful effects of alcohol and drug use or abuse. The Narconon presenter was able to clear up the myths and misunderstandings about substance use and abuse. In addition to his charismatic teaching approach, his willingness to share his own struggle with substance abuse encouraged our students to actively listen and learn from his presentation." - School Counselor
---
Nearly 25 years ago, the Narconon organization pioneered promoting the positive image of drug-free living through public events featuring prominent spokespersons and celebrities. American actress Kirstie Alley, one of the international spokespersons for the Narconon organization, has tirelessly promoted drug-free living at public events and in radio, television and press interviews. U.S. sports legend Willie Gault has MC'd fundraisers and Hollywood film luminary John Travolta has long been a member of the Narconon International Advisory Board.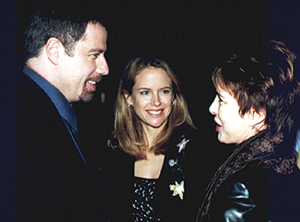 John Travolta, Kelly Preston and Anne Archer
at a John Travolta movie benefit screening
The Narconon organization also sponsors high-profile public events, such as celebrity "Narconon All Stars" sports contests in Hollywood, Native American ceremonial dances in Oklahoma, rock concerts in Italy and sporting games with police organizations in Germany, Switzerland and many other countries. All of these activities forward the message that celebrities and responsible citizen groups are opposed to drugs.