The premise of the Narconon Program is that a former addict can achieve a new life.

---

An important aspect of the Narconon program is the systematic application of techniques to improve communication and interpersonal skills in persons dependent on alcohol and/or drugs.

---

Ignorance about or failure to abide by the common moral precepts of our society can lie at the root of many of the addict's life problems.

---

Intervention is a process that helps an addict recognize the extent of his problem.

News/Information/Articles

Funding pledged to fight drug abuse
Mayor Thomas M. Menino pledged yesterday to allocate $180,000 in city funds to combat heroin ...

The fight against drug addiction
Boston Mayor Thomas Menino has introduced a program that would fund acupuncture detoxification and prescription ...

Jason Mewes faces drug rehabilitation - or jail
Actor Jason Mewes -- famed for his portrayal of stoner Jay in many Kevin Smith ...

More Addicts then we Realized
The "before" and "after" mug shots of 40-year-old Pekin resident Penny Wood show the effects ...

Early Marijuana Use Ups Risk of Drug Abuse
Teens who smoke marijuana at an early age are more likely than their siblings to ...

Specialists Speak Out
Local addiction specialists say the drug world is changing and drug prevention education needs to ...

RESOURCES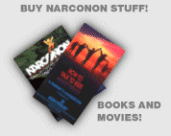 Welcome to Narconon San Diego
---
Narconon San Diego is the newest center in the Narconon drug rehabilitation and drug education world wide network. Our goal is to provide effective drug education and rehabilitation for substance abuse prevention and recovery. Narconon is unique in its treatment methods, with a success rate of 76%. The Narconon program is neither psychiatric nor medical. Narconon treatment methods are social and education based. It is entirely drug-free; we do not use drugs to solve the problem of drug addiction. Instead, the Narconon program utilizes nutrition and nutritional supplements as an important component of drug addiction treatment. Narconon centers handle all types of drug addiction, including: heroin, cocaine, methamphetamine, prescription medications and alcohol. The Narconon program is based in the firm belief that an individual is not powerless over their addiction to drugs or alcohol, and , in fact, must take responsibility for his or her own condition.
Narconon is a long-term inpatient drug rehabilitation program for people from all over the world. Handling drug addiction is no easy process... we know. Completing the Narconon program can take anywhere from 3-5 months and lasts forever. To us, the time it takes to complete our program is irrelevant. Each individual is different. We demand that our graduates accomplish what it is they set out to do - handle addiction forever!
Narconon drug treatment centers break the chains of drug and alcohol addiction. Becoming drug free is only the first step of a long journey; the real task is helping the individual acquire the life skills necessary to live comfortably without drugs. Our drug treatment process includes physical detoxification, life skills, and therapeutic procedures. We know the journey to recovery is not complete until the individual has a firm grasp of how to set and accomplish their goals. Narconon centers provide knowledge that if applied will restore an individuals integrity, honesty and competence.